Always Believe in Love (Emerson Book 4)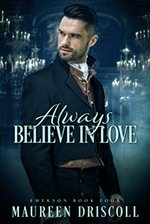 ASIN: ‎ B015UWTWEM
Publication date: ‎ September 26, 2015
Genre: ‎ Regency Romance
Print length: ‎ 275 pages
Nicholas Chilcott is the Earl of Layton, though his biological father was actually the late Earl of Ridgeway. When Nick's cousin Simon challenges him for the title, Nick must travel to the coastal village of Weymouth to uncover secrets from the past. But, instead, he finds the woman he wants to build his future with.

Kate Winston serves as the church archivist, while trying to evade the unwanted advances of the new vicar. When a handsome earl comes to town on a mission, she cannot resist helping him, though she has no desire to join his world in the ton.

As Nick and Kate work to find answers to the past, they discover a passion that neither can deny.​​​​​​​
Praise for ALWAYS BELIEVE IN LOVE
"I really liked spunky, witty and smart Kate. This book allowed for such depth yet progressed quickly and smoothly. It was easy to watch the story unfold like a movie with so many word pictures of the village, the actions and the characters." 5-star Amazon reader review, 2/9/18
"Anyone who's ever been lonely in a large group should love this tale. In fact, I'll pull Al Green up on my Amazon playlist and re-read this tale again." 4 ½ star Amazon reader review, 4/4/17
"I always know a book is good if it makes me laugh out loud, which this actually did. In fact, I'm still chuckling about some of the parts." 5-star Amazon reader review, 11/23/15