Always Come Home (Emerson Book 1)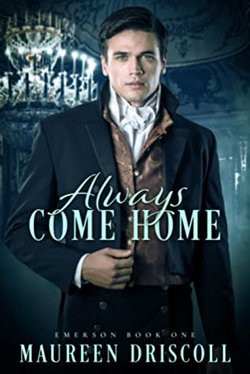 ASIN: ‎ B00IUL9ALG
Publication date: ‎ March 6, 2014
Genre: ‎ Regency Romance
Print length: ‎ 307 pages
Colin Emerson, the Earl of Ridgeway, has two unmarried sisters and a mountain of debt incurred by his late father. He has no choice but to marry an heiress. It is most unfortunate, therefore, when he falls in love with a penniless governess.

Ava Conway has been making her way in the world since the death of her father. She takes a position as the governess to Lord Ridgeway's sisters, but finds her growing attachment to the earl threatens his family's future.

Bound by honor, torn by love, can Colin do right by his sisters while following his heart?
Praise for ALWAYS COME HOME
"Excellent author, great ability to hold a reader's attention, super pacing." 5-star Amazon reader review, 11/17/15
"So many books are filled with men and women falling in love yet they leave you wondering why. These splendid characters leave you in no doubt at all that they are meant to be together, they have heart and substance that extends way beyond the normal formula romance. I enjoyed every word." 5-star Amazon reader review, 3/26/15
"I was delighted by the kindness, humor, steadfast love and charm of each person in this family. Their story is irresistible!" 5-star Amazon reader review, 11/13/15