Never and Always (Emerson Book 6)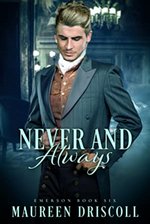 ASIN: ‎ B01N2VT1GG
Publication date: ‎ December 19, 2016
Genre: ‎ Regency Romance
Print length: ‎ 306 pages
Leticia Emerson, Violet Kellington and Anna Emerson have been friends most of their lives. Little did they know a visit from three Eton school boys would change everyone's lives for the better.

Fifteen-year-old Lord Wesley Addington has just learned he has a half-sister, Lady Leticia Emerson. Over the next decade, Violet Kellington falls in love with the man who only sees her as his sister's friend.

Lord Robert Carmichael has been all but abandoned by his family due to his pronounced limp, and he doesn't want to pass on his affliction to a child. Though he is determined not to marry, Letty Emerson sees only the brave man who fought through the pain of his illness and the scorn of his family.

Scholarship student Mark Jones is torn between two worlds: the London stews he was born into and the peers who will never accept him. Anna Emerson, who has an English father and a Native American mother, knows she has found her soul's mate.

The book contains three intersecting novellas, touching on love, loss and acceptance. It revisits the Kellington and Emerson families, more than a decade after their stories concluded. It is a love letter from the author to the two families which have meant so much to her.
Praise for NEVER AND ALWAYS
"What a fantastic tying together of two of the best romance novel series I've read. One can tell the author loves her characters as much as the reader does." 5-star Amazon reader review, 1/18/17
"Maureen's writing always has such a wonderful balance of humor woven through the stories, they make me smile." 5-star Amazon reader review, 12/31/16
"Really enjoyed reading this book. Made me laugh and cry! My very favorite things to do while reading any book." 5-star Amazon reader review, 1/7/20