Where Love Grows (Jasmine Cottage Book 5)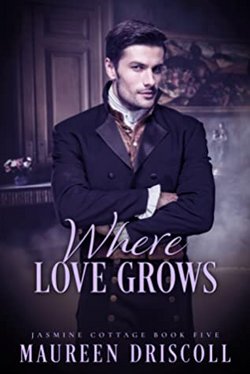 ASIN: ‎ B07KQBNYDX
Publication date: ‎ December 30, 2018
Genre: ‎ Regency Romance
Print length: ‎ 283 pages
As the sole remaining resident of Jasmine Cottage, Emma Moore has watched as her sister and three friends found true love. As happy as she is for them, she is less optimistic about her own chances of wedded bliss, since she had a long-ago falling out with the only man she ever loved. Pride and a wounded heart have prevented Emma from ever trying again with the man she has loved most of her life. And now she finds herself living alone in her beloved cottage on his estate.

Christopher Aston, the Earl of Audsley, is a powerful earl who can get anything except the one thing he wants the most -- the love of Emma Moore. A stupid mistake seven years earlier changed their lives forever and he has regretted it ever since. But when fate steps in and gives them a second chance, can they find true happiness together?

Of course they can! It's the final book in the series. I'm not going to give you four happily-ever-after novels, then keep Emma and Audsley apart.
Praise for WHERE LOVE GROWS
"As always, the writing was superb and the chemistry sizzled." 5-star Amazon reader review, 12/30/18
"The best story was left to be the last as two of the most lovable characters finally got together." 5-star Amazon reader review, 12/6/19
"This is such a fitting end to this series. I highly recommend it. If you're a fan of Julia Quinn, Mary Balogh or Lisa Kleypas, then you will definitely enjoy this story. It's THAT good." 5-star Amazon reader review, 1/2/19