Never Deny Your Heart (Kellington Book 5)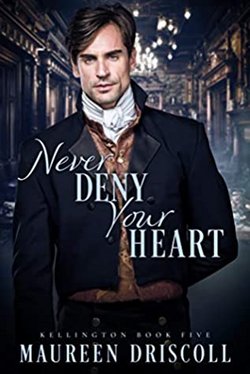 ASIN: ‎ B00BJWZI6E
Publication date: ‎ November 16, 2013
Genre: Regency Romance
Print length: ‎ 256 pages
William (Liam) Kellington, the Duke of Lynwood, loves Rosalind Carson, the sister of an impoverished viscount. But while Lynwood was still coming to terms with his feelings -- dukes can be particularly dim-witted when it comes to love -- Rosalind's brother sold her into a lucrative betrothal to another nobleman. Liam vows to save Rosalind from a marriage she does not want, while also convincing her to become the Duchess of Lynwood.

The lady, however, is not one to wait to be rescued.

Rosalind has been in love with William Kellington much of her life. And it has been a rather one-sided romance. When her brother promises her to a man five decades her senior, Rosalind must find a way to live the life she wants and not the one that has been forced upon her.
Praise for NEVER DENY YOUR HEART
"This is a 'wake up in the middle of the night to read one more chapter' book!" 5-star Amazon reader review, 2/27/20
"Liam is the man we all want and the fact that he loves and desires a girl not considered a diamond of the first water makes us champion them both, whilst feeling just a bit envious. I'll have what she's having. Read and enjoy." 5-star Amazon reader review, 5/30/13
"I've crushed on Liam since the first book in the series and have waited to hear his story. Ms. Driscoll has a gift for weaving a story from one book to the next in a seamless fashion, you end up feeling like you've never left the last book as you move on to the next one." 5-star Amazon reader review, 4/9/13
"Liam is such a protector to his brothers and sisters that he appears perfect. Somewhat detached and almost dispassionate. Whoops! Not so! And what a WOW not so. Liam is all man, Rosalind is all woman. What a pair! Five big stars." 5-star Amazon reader review, 5/20/15