The Tinseltown Murderer (Remington Mansion Mystery Book 2)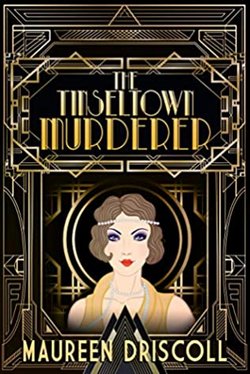 ASIN: ‎ B07Y5S9W7B
Publication date: ‎ December 31, 2019
Genre: ‎ Mystery
Print length: ‎ 286 pages
When Josie Matthews accidentally traveled back to a house party in 1929, little did she know she was changing history for the worse. It was only after returning to modern-day Oregon that she realized she had inadvertently prolonged World War II. She and her husband, David Remington, must now go back to correct history, being careful not to change anything again.

In 1936 they reunite with friends, including actor Kurt Franklin whose new German girlfriend may be a Nazi spy. As Hollywood studios court the German film market and local communists clash with the Los Angeles chapter of the Hitler Youth, associates of Josie and David are killed by the Tinseltown Murderer -- and all signs point to the fact it's someone they know. Josie and David have to fix history without becoming the Tinseltown Murderer's next victims.
Set in a fascinating period of real-life Los Angeles, THE TINSELTOWN MURDERER is a fictional story of crime, friendship and the perfect martini, during Hollywood's golden age.
Praise for THE TINSELTOWN MURDERER
"Ms. Driscoll excels in bringing her characters to life with her penchant for fun and witty dialogue and strong female characters. If you're a fan of the Amazon series 'Man in the High Castle,' I think you'll like this story." 5-star Amazon reader review, 1/13/20
"There was a crafty whodunit that kept me on my toes as the suspects were eliminated one by one. Overall, The Tinseltown Murderer was an exciting and mysterious time traveling adventure that was a captivating reading experience." 4-star Amazon reader review, 2/9/20
"As always, Maureen keeps you wanting more and it's very hard to put the book down. GREAT READ!" 5-star Amazon reader review, 1/19/20